Great-West SecureFoundation® Funds
Great-West SecureFoundation® (SecureFoundation) is an investment solution that provides participants with retirement income security and growth potential up to and through their retirement.
SecureFoundation is an innovative approach to retirement planning because it:
Protects participant's retirement income when the market goes down1
Allows them to benefit when the market goes up
Provides retirement income for life2
Collectively, these three key benefits address challenges participants may face related to their retirement planning strategy, including worries about market volatility, inflationary concerns and retirement income sustainability.
SECUREFOUNDATION
SecureFoundation is a guaranteed income benefit offered through a contingent deferred annuity issued by Great-West Life & Annuity Insurance Company (GWL&A) to plan sponsors, and is GWL&A's promise to provide a payment of guaranteed income subject to the terms and conditions of the annuity and claims paying ability of GWL&A.3 To take advantage of SecureFoundation, participants need to invest in one of the Great-West SecureFoundation® funds.
Please consider the investment objectives, risks, fees and expenses carefully before investing. For this and other important information, please refer to the fund's prospectus and the SecureFoundation Summary Disclosure Statement or prospectus for 403(b) clients. These documents are available from a registered representative. Read them carefully before investing.
HOW IT WORKS
Contributions, transfers in and any gains in the participant's Great-West SecureFoundation Fund Value (solid line in chart) create his or her Benefit Base (dashed line in chart). This Benefit Base determines the Guaranteed Annual Withdrawal (bars in chart). With SecureFoundation, the Benefit Base can increase, or "ratchet up," to the current Covered Fund Value on the annual Ratchet Dates, but the Benefit Base will never decrease to match a decrease in the Covered Fund Value due to poor market performance.
In this example, the Covered Fund Value is exhausted in year 21, but SecureFoundation lets participants to continue to receive Guaranteed Annual Withdrawal payments in the same amount for life. While decreases will affect the Great-West SecureFoundation Fund Value, they do not affect the Benefit Base.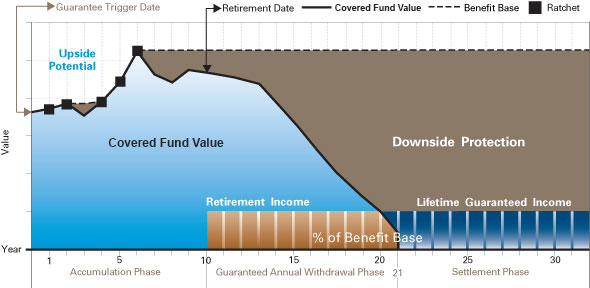 SECUREFOUNDATION GUARANTEE PHASES
Accumulation Phase – The Accumulation Phase is where the investor seeks to build up the value of his or her savings in a Great-West SecureFoundation fund. The Accumulation Phase begins immediately upon the initial investment for the Great-West SecureFoundation® Balanced Fund and the Great-West SecureFoundation® Lifetime 2020 Funds. The Accumulation Phase begins 10 years before the target date of the other Great-West SecureFoundation® Lifetime Funds. When the account enters the Accumulation Phase, the Benefit Base is established and the participant is initially covered by SecureFoundation's guaranteed income benefit. In this phase, participants may actively contribute to their Great-West SecureFoundation fund(s) and subsequently increase their Benefit Base. This phase ends with the first Guaranteed Annual Withdrawal payment.
Guaranteed Annual Withdrawal Phase – The Guaranteed Annual Withdrawal Phase is the period where the participant begins to receive regular distributions from his or her Great-West SecureFoundation fund. This second phase begins with a participant's election to receive the first Guaranteed Annual Withdrawal payment. At that time, the participant will elect either a single or joint withdrawal benefit and that will determine his or her Guaranteed Annual Withdrawal amount, which is a percentage of the Benefit Base (see Guaranteed Annual Withdrawal in "Understanding SecureFoundation Terminology" below for the Guaranteed Annual Withdrawal percentages). During this phase, the participant will receive their Guaranteed Annual Withdrawal benefit from his or her Great-West SecureFoundation Fund Value.
Settlement Phase – This final phase is the period when the participant's Great-West SecureFoundation Fund Value has reached zero, and the Guaranteed Annual Withdrawal continues as a percentage of his or her Benefit Base. The Guaranteed Annual Withdrawals will continue per the terms of the contract and the disclosure documentation.
MAKING AN INFORMED CHOICE
Smart retirement planning starts with knowledge. Click here for additional information on SecureFoundation. For help, please contact a registered representative.